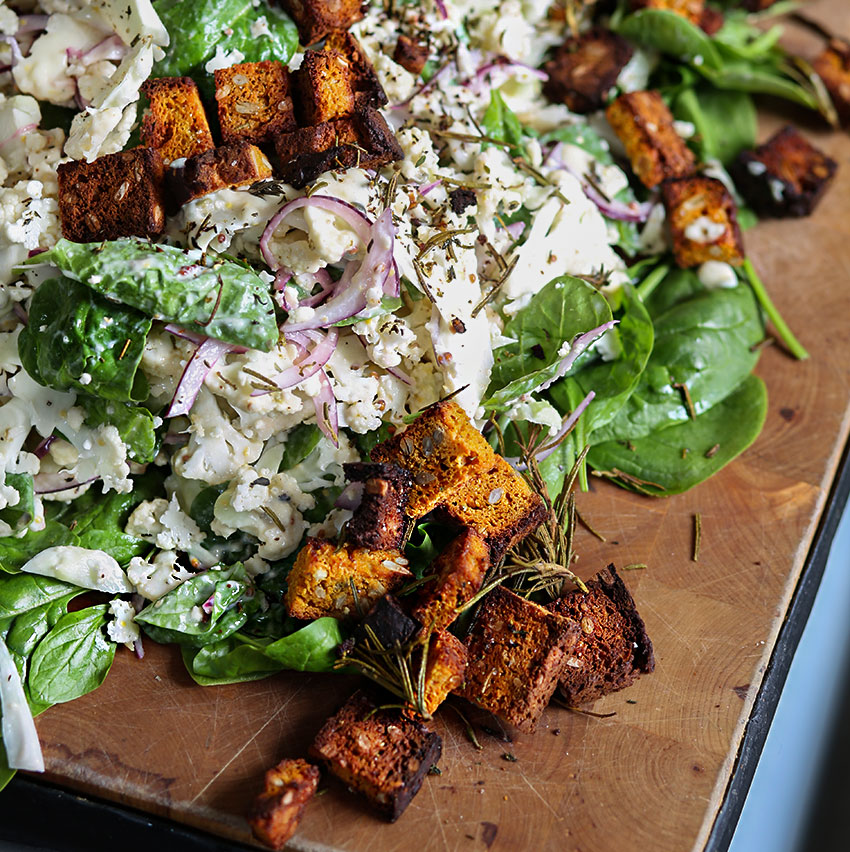 CAULI CEASAR & HERBY CROUTONS
A wicked lunch or super side!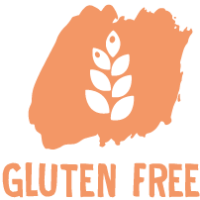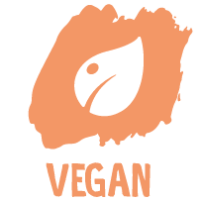 "This is Ceasar like no other, just make sure you don't eat all the croutons before serving!"
Ingredients
4 slices of Sweet Potato Toasting Loaf
3 sprigs of fresh rosemary, thyme or both
4 tbsp yogurt of coconut yogurt
The juice of 1 lemon
1 heaped tsp wholegrain mustard
1 heaped tsp dijon mustard
2 tsp salted capers
2 small glove of garlic, mashed
1 small cauliflower
1 red onion
4 handfuls of spinach leaves
Freshly ground black pepper
Olive oil
Process
1. Pre-heat the oven to 180c/ 350f/ gas mark 4.
2. Cut the bread into 1-inch cubes and place them in a roasting tray. Pull the rosemary leaves off the stalks and scatter them over the bread then scatter in the whole sprigs of thyme. Season with a good pinch of sea salt and a few grinds of black pepper, drizzle with olive oil and gently tumble everything together. Place the tray in the hot oven and bake for 25-30 minutes or until the bread and the herbs are crunchy and crispy.
3. To make the dressing, wash the salt away from the caper and pat dry with a clean tea towel. Finely chop the capers and transfer them to a small mixing bowl. Mash or grate the cloves of garlic and add to the combine the yogurt, mashed garlic, dijon mustard, wholegrain mustard, lemon juice and a good pinch of black pepper in a medium-sized mixing bowl. Mix together thoroughly and set aside.
4. Remove the outer leaves from the cauliflower, cut it in half then slice each half, lengthways, as thinly as possible and place in a large bowl.
5. Peel and finely slice the red onion and add to the bowl along with the spinach leaves.
6. Drizzle the dressing over and then, with your hands, mix everything together, ensuring an even coating of dressing.
7. Pile the salad in a big serving bowl or board then scatter over the crunchy croutons.